Harrison Performance
LAMBORGHINI HURACAN ALPHA 12 TWIN TURBO PACKAGE W/ MOTEC ECU (INSTALLED)
Introducing the ALPHA 12 Lamborghini Huracan Twin Turbo Package! The ALPHA Packages have dominated every single platform they've been built for. Countless world records and motorsport championship wins prove to our customers that they are getting the absolute best the performance aftermarket has to offer. The ALPHA 12 Twin Turbo Package with MoTeC ECU for the Huracan has been painstakingly engineered and tested to OEM levels of quality, reliability and drivability. Using the same components that are found in our ALPHA Twin Turbo Kit, this package has been developed by our in-house engineers to provide a turn-key motorsports solution for 1200+ horsepower.* The ALPHA 12, sets a new standard in competitive supercar performance.
Complete Twin Turbo System with MoTeC ECU & Proprietary AMS TCU Tuning Included
1200+ HP on E85 Fuel, 925 HP on 93 Octane Pump Gas*
60-130 in a Blistering 3.66 Seconds w/ E85*
Includes AMS Gearworks Stage 2 Transmission Upgrade (higher stages optional)
Launch Control, Rolling Anti-Lag, Flex Fuel, and Other Advanced Features on MoTeC ECU
Mid-8 Second Quarter Mile Runs Capable with Race Wheels/tires*
Direct Bolt-on Design for Rapid Installation, NO Modification to Chassis
Drives Like Stock Until You Mat the Throttle
Dual 3-port Boost Control Solenoids for Bank to Bank Boost Control
A Complete Turn-key Package, Priced Including Installation Labor and Calibration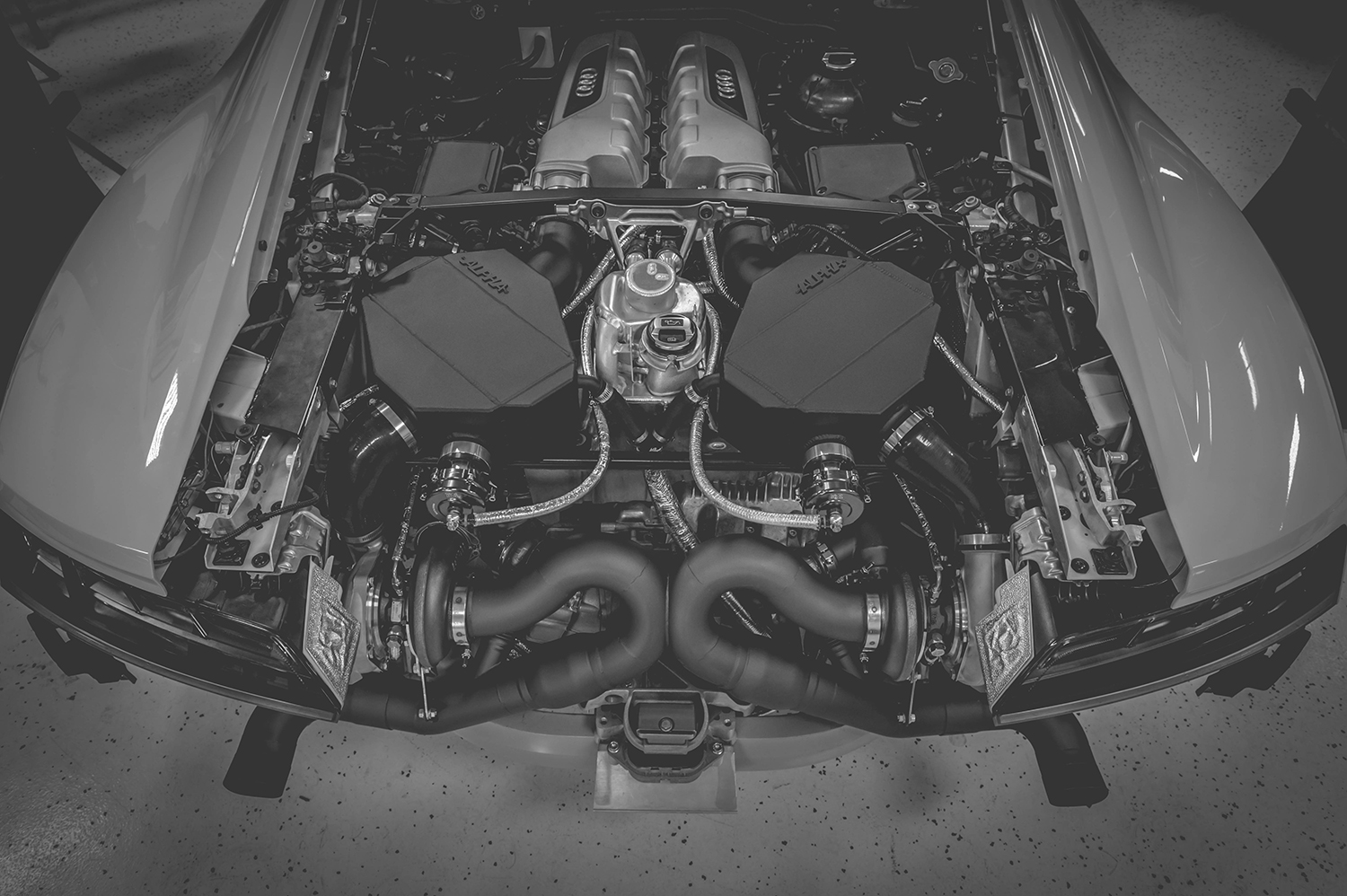 THE LAMBORGHINI HURACAN ALPHA 12 TWIN TURBO SYSTEM
As standard, the ALPHA 12 Twin Turbo Package for the Lamborghini Huracan makes 1200+ HP (approx. 1175 to 1275 to the wheels) on e85 ethanol fuel and with the included Flex Fuel feature, you can expect 925 HP (approx. 850-925 to the wheels) when running on 93 octane gasoline.* This power equates to endlessly repeatable mid-8 second quarter mile runs with a proper wheel and tire set up, and the appropriate safety equipment.
Available as a turn-key package, The ALPHA 12 has been developed as a bolt-in solution that can be rapidly installed at AMS Performance, or at your local select AMS certified installer. No modifications to the chassis or emissions systems are necessary, and our team has worked diligently to make sure our ALPHA 12 components have a fit and finish better than OEM. We keep as much as is possible of the ALPHA 12 system in stock and ready to be installed on your vehicle as soon as you are ready to start your build. As your transmission gearbox will be used as a core to build with, some turnaround time is necessary. However, there will be no months long wait times for fabrication, or excuses from parts vendors, like you've heard about with other shops and their nightmare build stories.
ENGINEERED TO WIN
Our Snailworks© Engineering Team has spent hundreds of R&D hours refining the ALPHA 12 Twin Turbo Package to be the best performing, highest quality, and easiest to install kit on the market. Focusing on component and materials selection is crucial, and is why we have selected top tier components as the foundation of our system, like the Garrett intercooler cores and turbochargers, along with TiAL wastegates and blow off valves, and a high flow brushless water pump for maximum performance and reliability. Everything has been thought of, even down to the fine details like tungsten ceramic coating and line sheathing for superior heat management.
Our team has gone the extra mile to develop innovative new solutions to problems found when adding forced induction to the 5.2 FSI V10 engine found in the Lamborghini Huracan. One of the things we saw during the development phase was a substantial air leak at the intake manifold flange due to the now positive air pressure within the manifold. To solve this, we developed a beautifully machined and anodized aluminum ring which fits around each intake runner gasket to provide additional sealing pressure. We chose to engineer and machine an elegant solution while competitors take the easy way out and use silicone to essentially glue the manifold pieces together.
FLEX-FUEL HARDWARE AND CALIBRATION FOR AUTOMATED ETHANOL OPERATION
The ALPHA Fuel System included in the ALPHA 12 Package has been developed by our talented AMS Snailworks® Engineering Team as a complete system, but with a modular approach. This complete fuel system has four separate subcomponents – the Twin Pump Kit at the fuel tank, the Fuel Pressure Regulator and Fuel Line Kit in the engine bay, the Fuel Rail Kit on the intake manifold, and a Flex Fuel Kit add-on for ethanol fuel usage. While these four main subcomponents are available to purchase separately, they have all been designed to fit together seamlessly as a complete system.
The benefit of developing a system in this manner is that we can reimagine how the system fits and works together to optimize vehicle-wide systems to improve fuel flow, drivability, and ease-of-use. There are a number of extremely restrictive components within the factory fuel system which our reimagined ALPHA Fuel System reroutes, removes, or replaces to vastly increase fuel throughput. Another of the key features of the ALPHA Fuel System is the ability to have OEM-like siphon system functionality, without the highly restrictive fuel flow of the OEM system. Because we have been able to re-engineer the entire fuel system as a complete unit, we can provide fuel to both sides of the saddle tank equally, keeping the fuel pump assembly full of fuel at all times. Where other builder's kits use impractical and potentially dangerous external surge tanks, or can't be driven below half a tank without fuel starving, the ALPHA Fuel System solves these issues by way of our advanced engineering.
This complete ALPHA Fuel System when used in conjunction with the MoTeC M142 engine management system allows the ALPHA 12 to facilitate a completely automated flex fuel solution to run gasoline, E85, or any mixture of gas and ethanol with a content rating from 0 to 100% ethanol. This gives you the ability to run E85 or other blend of ethanol fuel without having to worry about manually measuring and calculating your ethanol content percentage. The integrated ethanol sensor informs your vehicle's MoTeC ECU on the content percentage, and the custom AMS Flex Fuel calibration will automatically adjust parameters like fueling, boost, and timing to produce the most power possible for a given fuel or mixture of fuels. These adjustments happen seamlessly in the background of your flex fuel tune allowing you to be flexible with what fuel you utilize in your V10. This is a set-it-and-forget-it flex fuel solution that requires no adjustment once installed and tuned.
ADVANCED MOTORSPORTS FEATURE SET VIA MOTEC STANDALONE ECUS
With the ALPHA 12 Package, there is nothing additional needed as we are providing an all inclusive solution with all parts, labor, and tuning services. The ALPHA 12 Package comes with all necessary ECU and TCU hardware, software, and our expert calibration service on our in-house dynamometer (remote service available for AMS Certified Installers). While the factory ECU is an excellent choice for many customers, at a certain point, the advanced functionality and features of a standalone Engine Management System (EMS) solution become a necessity. The Dual MoTeC M142 EMS has a number of benefits that the factory ECU does not, ranging from the ability to utilize flex-fuel, or advanced motorsport traction control, to a wide array of fail safes such as an added safety trip for excessive temperature readings. These perks and safety features give you the confidence and peace of mind necessary when you are behind the wheel, sitting at the starting line.
The MoTeC M142 kit is a complete replacement for the two factory ECUs, utilizing existing wiring, sensors and mounting hardware to deliver plug-in convenience with fully programmable control. The M142 ECUs are supplied with our own AMS Standalone Install & Sensor Kit, providing for additional functionality by way of sensor monitoring and improved safety measures. This proprietary installation kit takes the MoTeC system to the next level by making install a breeze and including extra sensors that we feel are necessary to operate a V10 safely in a motorsports environment.
The dual M142 kit is comprised of a Primary ECU, in which all tuning adjustments are made, and a Secondary ECU that mimics settings from the Primary. This mirrors how Audi and Lamborghini have configured the vehicle from the factory, with an engine computer controlling each bank. After initial setup, only the Primary ECU requires connection to M1 Tune for adjustments. Along with fuel, ignition and camshaft control, this kit also supports other OE ECU feature such as cruise control, A/C, adjustable driving modes (Strada, Sport, Corsa), and all OE dash functionality and warning lights.
In addition to these OE system integrations, the MoTeC M142 EMS allows us to include advanced motorsport features that can improve traction and acceleration, boost control, and even transmission shifting. The advanced launch control and traction control features allow our calibrators to configure acceleration characteristics at a true motorsports level. We also have the ability to utilize MoTeC's Level 3 internal datalogging feature, which allows for laptop-less logging of over 900 parameters that can be used for monitoring, diagnosis, and improving the performance of the vehicle via testing.
KIT INCLUDES
GTX Series Garrett Turbos w/ AMS Lava Rock PTP Blankets
AMS Air/Water Intercoolers utilizing Garrett Cores
AMS Tig Welded and Powder Coated Intercooler and Intake Piping
AMS Exhaust X Pipe w/ Tungsten Ceramic Coating
AMS Water Tank and Billet Cap
High Flow Brushless Water Pump
AMS Dual Black Heat Exchangers at Front Bumper
TiAL Blow Off Valves and Wastegates
AMS Gearworks Stage 2 Transmission Upgrade (higher stages optional)
AMS Performance Huracan ALPHA Fuel System – Twin Pump Kit
AMS Performance Huracan ALPHA Fuel System – Fuel Pressure Regulator + Fuel Line Kit
AMS Performance Huracan ALPHA Fuel System – Fuel Rail Kit
AMS Performance Huracan ALPHA Fuel System – Flex Fuel Kit Add-On
Injector Dynamics ID1050X Injector Set
AMS Dual 3-port Boost Control Solenoid Kits
MoTeC M142 Dual ECU Kit w/ Level 3 Logging
AMS MoTeC Install Kit Incl. All Required Pressure Sensors, Temperature Sensors, Installation Hardware, Etc.
AMS TCU OBD Flashing Module
AMS Ancillary Components, Including all Hardware, Lines, Wiring, and Heat Shielding
Installation Labor Included at our West Chicago Facility
Calibration for both ECU and TCU on our In-house Dynamometer
Map Switching Selections for Various Fuel Types and Power Levels. (Valet Mode, 91 or 93 Octane Gasoline, Flex Fuel (Ethanol/E85), and 100+ Octane Race Fuel (International Fuel Mappings Available)
Optional Race Track Mappings and/or Additional Mappings Available Upon Special Request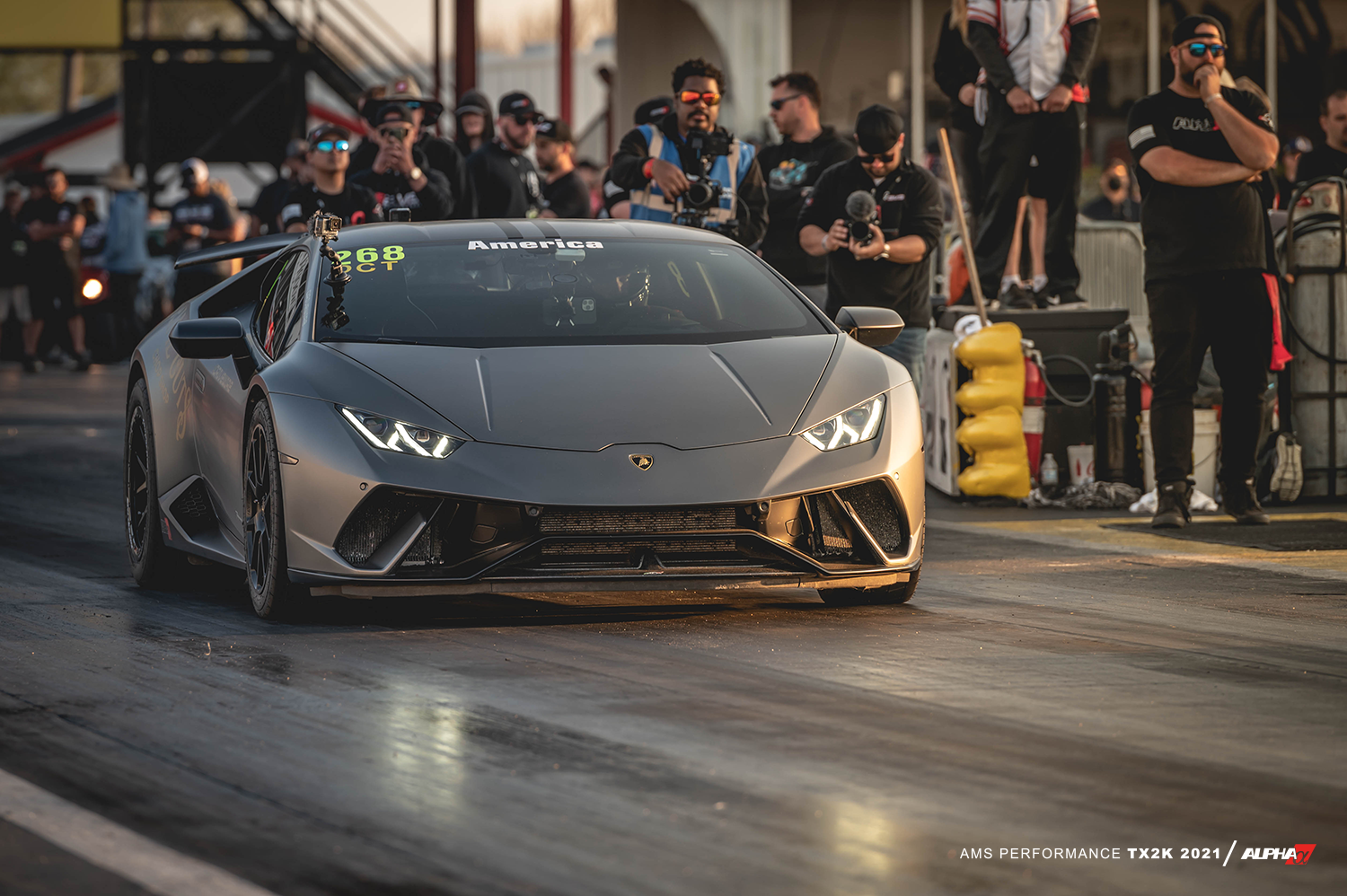 APPLICATIONS
2015 – 2019 Lamborghini Huracan (excluding Spyder models)



* HORSEPOWER AND TORQUE NUMBERS, QUARTER MILE TIMES, 0-60 MPH, 60-130 MPH AND OTHER RECORDED TIMES CAN VARY SIGNIFICANTLY DEPENDING ON NUMEROUS FACTORS SUCH AS YOUR AMBIENT TEMPERATURE, ELEVATION, TIRE SELECTION, ROAD SURFACE MATERIAL, FUEL OCTANE AND QUALITY, AND VEHICLE WEIGHT, AMONG MANY OTHERS. THE ADVERTISED NUMBERS HEREIN ARE BASED ON OPTIMAL CONDITIONS AND UTILIZING PROPER SUPPORTING MODIFICATIONS, BUT ARE GENERALLY ATTAINABLE RESULTS BY AN AVERAGE CUSTOMER. YOUR RESULTS MAY VARY.